Custom Graduation Banners & Signs

Upload Photos, Edit Text, Change Colors & More

Great for Outdoor and Indoor Use

Prints Today and Ships Tomorrow
Don't see the Graduation Sign OR Banner you want? We offer FREE DESIGN SERVICES!
Customizable Graduation Banner Templates
Choose a template below and personalize it with your graduate's picture, name, graduating year, school colors, and more.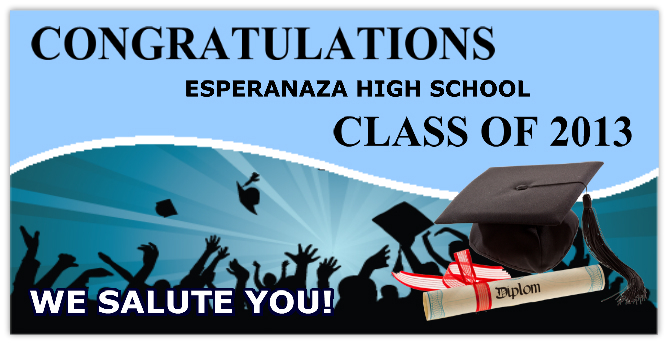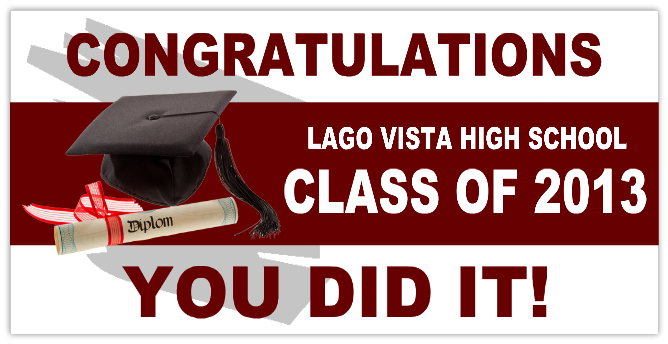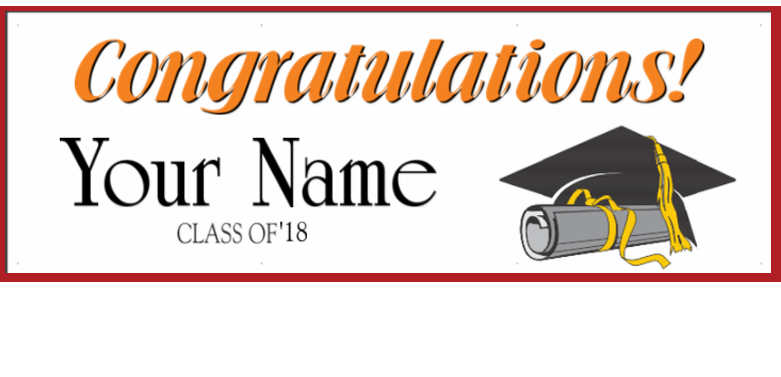 Graduation Signs & Banners Done Right
What are Graduation Banners?
Graduation banners and signs are a great way to show your upcoming high school, college, or university graduate how proud you are of them for persevering and making it to the finish line! These banners and signs serve as great decorations for graduation parties or as a way to greet your graduate as they exit the ceremony. And the best part? They can be fully customized at no additional charge with your graduate's name, picture, graduating year, school colors, and more.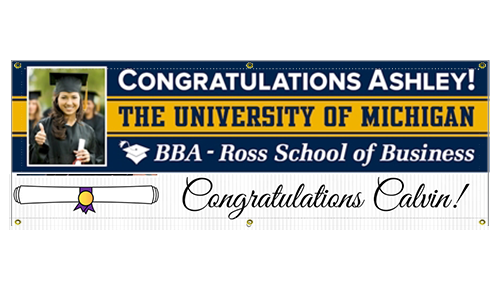 Types of Graduation Banners & Signs
Whether you are interested in creating a banner or a sign to show your appreciation, we've got you covered. Here are the most popular banner and sign types people use to create personalized graduation signs:
The above materials are the most popular choices for graduation signs. However, we also have a wide variety of other sign materials you can choose from. Check out our home page to see all the different types of custom signs we have to offer.
Ways to Hang Your Personalized Graduation Banner –
Once you receive your custom graduation banner, the next step is figuring out how and where you are going to display it. If you are planning on holding it up for your graduate, then you're all set! All you need is a couple free pairs of hands. If you are planning on using it as a decoration, however, you will need a way to hang it up. Here are several accessories you can use to hang your graduation banner (all available for purchase with your banner):
Bungee Cords – Bungee cords are a quick and versatile method for hanging your banner from a fence, wall, or anything else you can come up with. All you need to do is attach one end of each bungee cord to each of the grommets on the corners of your banner and attach the other end of the cord to whatever surface you are hanging your banner on. We offer a set of four premium 14" bungee cords for you to include with your banner that can stretch up to 29" long, giving you plenty of hanging possibilities.
Nylon Rope – Although not as quick to apply as bungee cords, nylon rope is perhaps the most adaptable hanging solution for your graduation banner. We offer a set of four 10' pieces of rope, allowing you to hang your banner to anchor points that other hanging accessories simply would not be able to reach. This makes nylon rope a great option for hanging your banner from something like a ceiling or garage door. Rope also allows you to be in full control of how tight/snug you want your banner to be. If you are going for a tight appearance, just tighten the rope on each corner of your banner to your liking. This rope is outdoor rated and has a 132 lb workload with 1100 tensile strength. This means you can hang your banner either inside or outside without the fear of it falling down or blowing away in the wind.
Hanging Clips – Just clip it in and you are good to go. Hanging clips allow for extremely fast and simple hanging, and all you need to do is run the clip through a grommet on your banner then run it through the desired anchor point. One point to be aware of with hanging clips is they need anchor points that are very close to the edges of the banner. For this reason, these work especially well when hanging your banner from something like a chain link fence but may not work if trying to hang your banner from a wall or ceiling. We offer a set of six steel hanging clips (also known as carabiners) for you to include with your graduation banner.
Zip Ties – Just as with hanging clips, zip ties also offer fast and simple hanging. These are the ideal option for hanging your graduation banner to a chain link fence. Another benefit of using zip ties is that they are very small and not easily noticed, which helps them not detract from the appearance of your banner. You can order a pack of ten 7" zip ties with your banner, giving you more than enough ties to securely hang your banner on graduation day.
Adhesive Velcro – Adhesive velcro is a great solution for attaching your banner to a wall indoors. Included is a set of 6 strips of adhesive velcro with each strip being made up of two pieces that each have an adhesive backing. To hang your banner using adhesive velcro, all you need to do is attach one piece of each strip to the wall and the other piece to the corresponding location on your banner. Then attach the two pieces of velcro together and there you have it!
Suction Cup & Hook – Need to hang your banner on a glass window or door? If so, we definitely recommend going with the suction cup & hook hanging method. This includes two suction cups and metal hooks, with the hooks being able to attach to the grommets on the top corners of your banner and the suction cups being able to securely suction to any glass or acrylic surface.
Making a One-Of-A-Kind Banner for Your One-Of-A-Kind Graduate
One of the greatest benefits of creating a graduation banner with Signs.com is the ability to create a 100% unique banner that is completely tailored to your college or high school graduate. Whether you want to let your creative juices flow or let us take care of it for you, you have three different ways to do this:
Create Your Banner or Sign From Scratch – Feeling creative? Take the reins on our powerful online design tool and see what you can come up with! With the ability to upload any image or design, add text, adjust colors, include clipart, adjust sizing and more, the possibilities really are limitless for the type of sign or banner you can create. Some of the elements most people like including on their graduation banners are the graduate's name, school, picture, and graduating year. Include these and more to create a banner you and your family will be sure to love.
Start With One of Our Premium Templates – If you're not sure where to begin with your graduation banner design, start off with one of our professionally designed templates. Each template is fully customizable, allowing you to input your graduate's information as well as match the colors of the school they are graduating from. If you feel a template is missing something you would like to have, you can add it in using our online design tool. Our graduation templates are offered to you at no additional charge and are a great way to get started on your graduation banner or sign.
Utilize Our Free Design Services – Short on time, resources, or creative juices? No problem! We would love to take care of any custom design for your graduation banner. All you need to do is fill out a free design services request form and let us know what you have in mind for your graduation banner. You are welcome to provide images, a drawing, or just an explanation of what you are looking for and we will do our absolute best to replicate it in the form of a finished design. Once you have told us what you would like, you will be contacted by one of our professional graphic designers within one business day and you will be able to work with them one-on-one until you have received a design you are happy with. Then all that's left is for you to order your custom-designed banner and get it ready to display for your upcoming graduate!



Award-Winning Customer Service


100% Satisfaction Guarantee