Description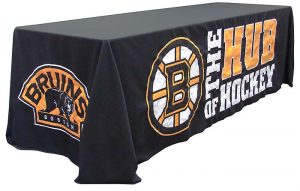 Turn a simple table into branded marketing material using our custom table throws. Made from an 6.8 oz. polyester with a vibrant, dye-sublimation-printed design, table throws are an ideal addition for any tradeshow, convention, or business event display. Table throws are specifically suited for use on 6ft or 8ft wide tables and have rounded corners for added visual appeal.
Table Throws Highlights
Weight: 3.5 lbs (6') or 4.1 lbs (8').
Thicknesses: 6.8 oz. polyester fabric (about the thickness of 5 sheets of copy paper)
Details: 6.8 oz. polyester table throw with a closed (4-sided) back. Print on up to all four sides of your table throw.
Uses: Can be displayed indoors and outdoors (in calm weather conditions). Uses include: trade show display or conference tables, event check-in stations, job fairs, and seasonal displays.
Print Method: Full color dye sublimation printing process.
Estimated Lifespan: 3+ years with proper care.
Custom Sizes:Covers a 6ft or 8ft table (see FAQ section for specific dimensions)
Installation & Care
Installation: Setting up the table throw requires simply unfolding the throw and placing it on the table. Your trade show or event table will be ready with your branded table throw in mere minutes.
Care: Use a damp cloth to remove surface dirt or machine wash with warm water on a low spin or gentle cycle. If machine washing, be sure to use a mild detergent. Hang to dry or if necessary, tumble dry alone on the lowest heat setting. Do not bleach or iron.