Add your business name, logo, brand colors & more

Available in a wide range of sizes

1-Day Turnaround for Any Banner or Sign
Don't see the Grand Opening Banner you need? We offer FREE DESIGN SERVICES!
Combine your Coming Soon Banner and Grand Opening Banner Into One
All of our banners have the option to be double-sided. This means you can have a grand opening banner on one side and a coming soon banner (or whatever your heart desires) on the other side. Start out with the 'coming soon' side then simply flip it to the 'grand opening' side on your big day. This is a great way to increase the cost effectiveness of your banner. Customize each side however you want and get the most out of your banner or sign!
Grand Opening Signs & Banners Made Right
What Are Grand Opening Banners?
A grand opening banner is used to communicate that your new business is either opening soon or now open. Most business owners use them for multiple weeks before and after their business officially opens. They are great for increasing awareness of your restaurant or business. They also inform and attract new customers. Grand opening banners are perfect for new businesses because they can be customized to include the date and/or sales that will be going on during the grand opening, which will help increase traffic and sales.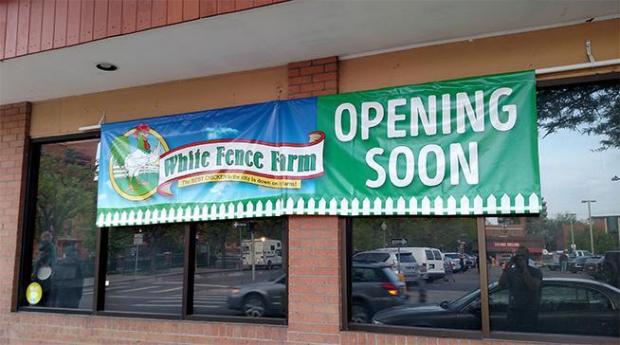 Types of Grand Opening Signs
Grand opening banners and signs can be created with any material that we currently offer. Different materials have different pros and cons. Consider which type of material is best for you depending on size, location, use, etc.
How to Make the Most of Your Grand Opening
You're a business owner. You've done your research, hired employees, ran the numbers, now you're waiting for one final thing–the grand opening. There are a number of things you can do to make sure everything goes smoothly on your big day.
Be Prepared – Make sure you give yourself enough time to plan everything in advance. You should start planning for your grand opening 2-3 months before the actual day. Make sure that you have everything you need. Run through the day in your head multiple times. Visualize what it will look like–who do you want there, what time of day is it, what's the atmosphere like, etc., and then plan accordingly.
Create Excitement – It's not enough to just advertise your grand opening, you have to create excitement for it. There are a number of ways you can do this. This will differ with each business, but think of your target market. What do they like? What would make them as excited about your grand opening day as you? Perhaps you could do a giveaway–handout t-shirts with your business logo on them. If your business is a restaurant, you could hand out free samples. Free food is a great way to get people excited. You decide what would work best for your business.
Have Fun – After you've done all you can do, the only thing left is to execute. Have fun! Enjoy your big day. The grand opening of any business should be a happy day for its owners and employees. Best of luck with everything and we hope your grand opening day is amazing!.
Additional Ways to Promote Your Grand Opening
Word-of-Mouth – The easiest way to promote your grand opening is by word-of-mouth. Begin by telling your close circle of friends/family and ask them to do the same to their friends and family. This is an easy way that costs virtually nothing.
Social Media – MSocial media is a large part of the world we live in. It is a great way to communicate with all different kinds of people. Instagram is becoming more and more popular for businesses. Facebook pages are also a great place for a business to start. Customers can use your business' facebook page to get important information such as hours of operation, reviews, contact info, and other things. They are free to set up and very low maintenance.
News – Call your local news and see if they would be interested in doing a short clip on your grand opening. Chances are they'd be willing to help. Plus they have a good local audience that they can reach. This might even include people that don't have or use social media.
Banners & Signs – One of the best ways to promote your grand opening is to put a banner on your building or store. Banners are an inexpensive way to target people located around your business. They can be fully customized and can display important information. They should typically be displayed long enough before to give people a chance to see them multiple times, but not so long in advance that people forget about them. We would recommend 2-3 weeks in advance, and a couple weeks after you open.
Create a Banner That Stands Out From the Crowd
Material/Sign Type – The first step in creating a great grand opening banner is to determine the type of material you're going to use. Is your sign going to be indoor/outdoor? How durable do you need it to be? Do you want it to be double-sided? Where are you going to put it? How are you going to hang it up/place it? It's important to ask these questions so that your sign does exactly what you need it to do.
Size – Another important factor in determining the material and sign type is the size. Banners are typically used for larger advertisements as opposed to aluminum signs. Window decals differ in size depending on the size of the window. Size matters. You have to figure out which size is right for you.
Colors – Once you've determined the material/sign type and the size, you need to decide which colors you will use. It is important to remember to use enough contrast between your background, images, and text so that they can easily be seen from far away. Our banners & signs are 100% customizable, so feel free to use colors from your brand to help people associate your banner with your business.
Layouts – Once you've determined the material/sign type and the size you need to decide which layout is best. The layout includes the amount of text on your sign, which images or logos to use, and where to put them. Not sure where to start? Start with one of our premium templates above and change it according to your needs. Once you've figured out the right type, size, color and layout, you should have a great looking banner.