About Our Pop Up Displays
Description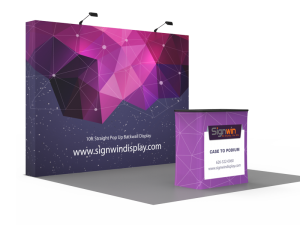 Like the name implies, pop up displays are easily set up to create a professional display for use at tradeshows, conventions, photoshoots, and promotional events. The unique frame is designed to extend to its display size, then compress back to a compact, portable size when not in use. The custom fabric display easily attaches to the pop up frame using velcro lining on the backside of the display. Printed using a dye sublimation process, it is vibrant and durable, adding to the versatile nature of this display.
Pop Up Display Highlights
Weight: 27 lbs. This includes the frame, fabric display, and carrying case. The larger display weighs slightly more than the 8'x8' display.
Thicknesses: 8.8 oz tension polyester fabric. (about the thickness of 5 sheets of copy paper)
Details: 8.8 oz tension fabric with velcro attachments to secure display on a portable, easy to setup pop up display frame. A canvas carrying case, with handles for travel, is included with the pop up display and frame.
Uses: Primarily used indoors. Can be used outdoors on a solid surface in calm weather. Uses include: tradeshows, conferences and conventions, red carpet and event pictures, weddings, media events, photo booths, promotional displays, sponsorship signage and more.
Print Method: Full color dye sublimation printing process.
Estimated Lifespan: 3+ years with proper placement, care, and storage.
Custom Sizes:8'x8', 10'x8' (see FAQ section for specific dimensions)
Installation & Care
Installation: Setting up a custom pop up display is as easy as pulling it out of the bag and extending the frame upwards from the ground. It is recommended that at least two people set up the display. Begin by expanding the frame upwards and locking all of the green supports throughout the framework to ensure the frame does not collapse back into the compact state used to transport it. To attach the graphic, start in one corner, applying pressure to the velcro to secure the display. Once it is attached in the front on the top and bottom, secure the sides of the display to the side portions of the frame where the two vertical strips of velcro are located.
Care: Caring for your pop up display can be done using a damp cloth to remove surface dirt on the fabric and framework. The fabric can be machine washed with cold water on a low cycle, then air dried. The frame can be stored in the carrying case provided. Store the pop up display and your graphic in the included carrying bag to protect them when traveling and storing. Cover your display graphic and take care when storing and removing it from the carrying case to avoid damage to the graphic.
Pop Up Display Options
Accessories : "Select additional accessories for your sign."