Include Your Business Name and Logo

Customizable Business Hours Signs Made from Plastic
Choose a template from the categories below and personalize it with your logo, brand, custom store hours, or favorite image.
Don't see the Business Hours Sign you need? We offer FREE DESIGN SERVICES!
Business Hours Signs Made Right
What are Business Hours Signs?
A business hours sign is simply any type of sign, decal, or sticker used to display the hours of operation for any store, business, office, or restaurant. The most common location to place these signs is on a storefront window or glass door leading to the entrance of a building or office. These signs let your customers know when your business is open and when it is closed, which will help them avoid wasting time by trying to come to you when you are not available. Apart from displaying the hours and days when you are open, these signs frequently include business names, logos, phone numbers, and even website addresses. Since our store hours signs are 100% customizable, all of this information can be added to your business hours sign at no additional charge.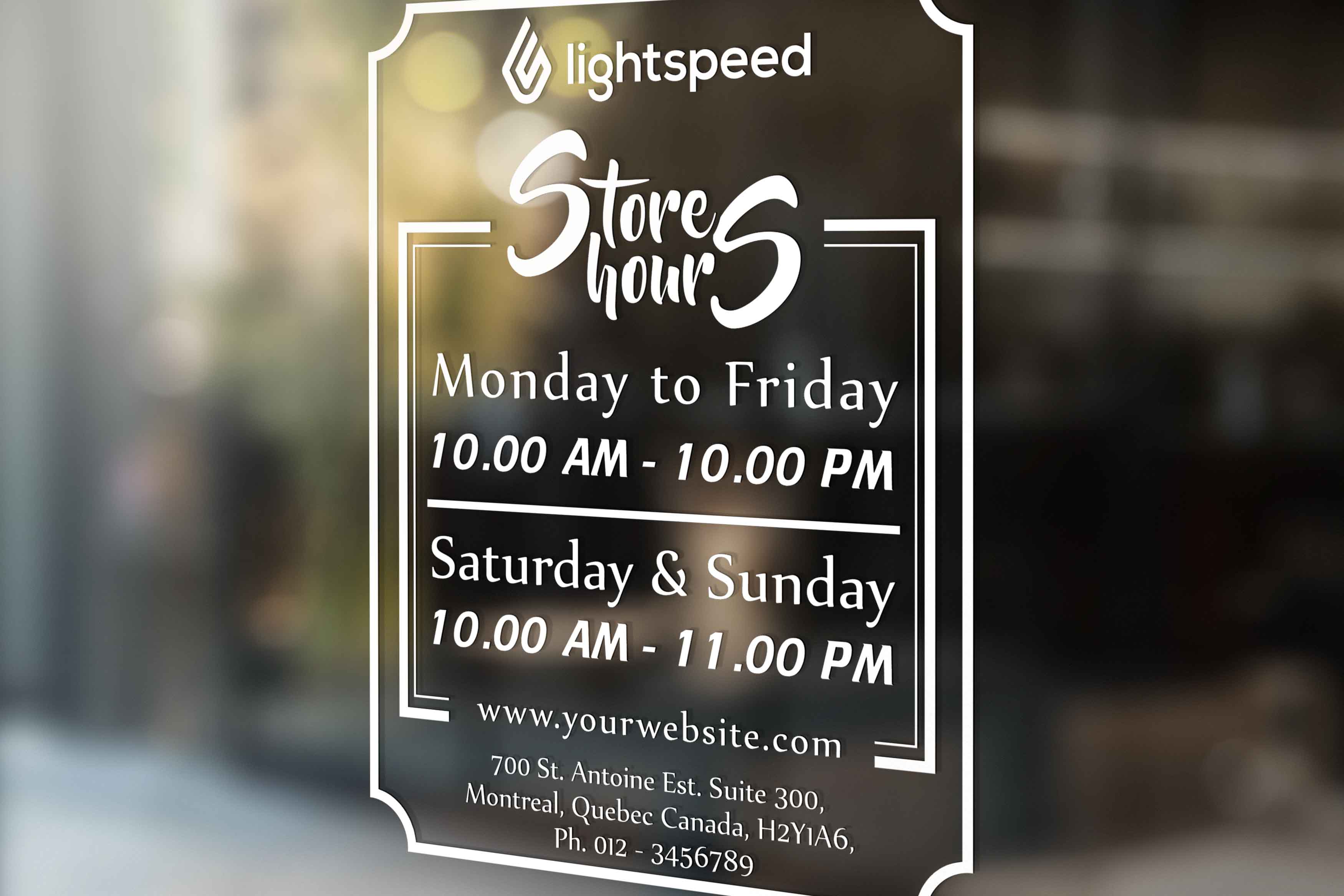 Types of Store Hours Signs
Store and office hours signs can be created using virtually any type of sign material. However, certain sign materials are more popular than others due to cost effectiveness, ease of use, and the typical display surface. Here are the most popular sign materials used to create open hours signs:
Benefits of Custom Business Hours Signs –
If there is one sign that all business owners with a physical location need, it is a store hours sign. There is nothing more frustrating as a customer to go and visit a store only to find that they aren't open yet or have just closed. Part of the difficulty for stores and offices is that generic store hour signs usually don't work. Every store and office will have their own unique schedule and consequently need some kind of custom store or business hours sign, sticker, or window decal. Whether your signage needs to be on the outside or inside of the glass and whatever your business hours might be, our templates for hour signs are varied and can fit your building and schedule. All of our templates displayed further up the page are fully customizable. Even if you don't see a business hours template that works you can contact us for free design services and we'll create exactly what your shop needs.
How to Create an Effective Business Hours Sign –
The whole purpose of using a business hours sign is to provide information to your customers that is easily seen and understood from the moment they come in contact with your store. Here are some tips you can follow to make sure you create the most effective business hours sign possible:
Choose the Right Location to Place Your Sign – It goes without saying that one of most important aspects to choosing the location for your office hours sign is to place it somewhere that it can be easily seen from the outside of your facility. This allows customers that come to your doors when you are closed to be able to see your hours and come back when you are open. The most popular location to place a business hours sign is directly on the entrance door to your business, store, or office. This door gets the most traffic by far, and allows anyone entering (or trying to enter) your store to be able to easily see your hours of operation.
Use White/Bright Letters If Using a Transparent Decal On a Window or Glass Surface – If you are planning on having your business hours sign be vinyl lettering, a clear window decal, or a clear static cling, we recommend making the color of the text on your sign as bright as possible (with white being the best option). This allows maximum visibility, making your hours stand out and be easily read. Many times, if a dark color is used (such as black), the letters blend in with the background of the window/glass surface and cannot be read, especially when the windows may be tinted. However, if you are using any other type of sign or decal (such as aluminum, opaque window decal, plastic, etc.) the only thing you need to consider is to make sure the background of your sign contrasts with the letters. For example, if you are ordering an aluminum sign and want the background color to be white, be sure to use a dark color for your letters (such as black).
Group Days With the Same Hours Together< – If you have the exact same hours of operation on more than one day of the week, try condensing the text on your sign to display those days grouped together. One common example of this is grouping together Monday through Friday, with Saturday and Sunday separate (unless your weekend hours are the same as your weekday hours). This will save you space on your sign, as well as make it much easier for your sign to be read and quickly digested by your customers. Our free online design tool gives you full control of the text on your sign, allowing you to group any combination of days and add any range of hours.
Incorporate Your Brand and Logo – There is no need to have a bland business hours sign with plain text and no additional flair. Our free customization allows you to add your business name, logo, and even custom fonts to your store hours sign at no additional charge. Make your sign unique to your business and stand out from the crowd!
Consider Providing Your Contact Information – If someone comes to your business when you are closed and needs to refer to your store hours sign to see when you are open, you should take advantage of this opportunity and provide additional information that gives them a way of getting a hold of you. This is usually through providing your business's phone number or website address. Providing your website address is a great option, as it gives the reader an incentive to check out your site. Getting them on your website greatly increases the chances of them returning when you are open and gives them the chance to learn more about your products or services.
Additional Ways to Communicate Your Hours to Customers –
Putting up a business hours sticker or sign is the number one most effective way of communicating your hours of operation to your customers. However, this is not the only way you can notify your customers of when you are open or closed. Here are some additional ways to communicate your hours to customers apart from your business hours sign:
Use an Automated Phone Response System – If you have ever spent time working at a retail store, restaurant, or shop, you are fully aware that one of the most popular questions people ask when calling in is "What time do you open?" or "What time do you close?". Having employees of your business constantly answer the phone to address this simple question is costing you unnecessary time and money. One great solution to this is to set up an automated phone response that can provide your hours of operation to the caller without needing to take time away from you or your employees. However, if you choose to implement one of these systems at your business, be sure to include a fast and simple way for callers to still get through to an actual employee that can help with questions that cannot be answered by an automated or interactive response system.
Display Your Store Hours On Your Website – Online use is continuing to grow, and with that is the need to display important information on your business's website. Included in that important information is, as you may have guessed, your business hours. Just as with the automated phone response system, posting your store hours on your website will save you time and money. Your customers will also appreciate being able to find such information. When you list your hours on your site be sure to place them in a location that is easy to see and easy to find. It should not take someone longer than 30 seconds to find this information once they have reached your website. If your hours are difficult to find, this may end up frustrating the customer, which can lead to them choosing a different store to do their shopping.
Create a Google My Business Account and Provide Your Hours – More often than not, the number one place people will start when looking for your business hours is Google. By creating a Google My Business account, you will be able to have all of your store's important information appear in the search results, including your hours of operation. You will be able to provide your standard hours as well as modified hours during certain seasons or holidays. Google can even tell the searcher whether or not you are currently open and how busy you are. And the best part? Creating one of these accounts is entirely free. You can head over to google.com/business to learn more.



Award-Winning Customer Service


100% Satisfaction Guarantee