Cost-Saving Quantity Discounts

Produced Today, Ships Tomorrow
Customizable No Trespassing Signs Made from Aluminum
Don't see the No Trespassing Sign You Need? We offer FREE DESIGN SERVICES!
No Trespassing & Private Property Signs Made Right
What Are No Trespassing Signs?
No trespassing signs have one major purpose, which is to deter people from entering areas that are not accessible to the general public. These signs are used for all types of private properties, including businesses, homes, areas of land, beaches, and more. If your no trespassing sign meets state regulations, it can even be used as a means of prosecution against those that have wrongfully entered your private property. These signs can be made from aluminum, plastic, or any other sign material and are generally placed along the perimeter and the entrances of the area you are trying to protect.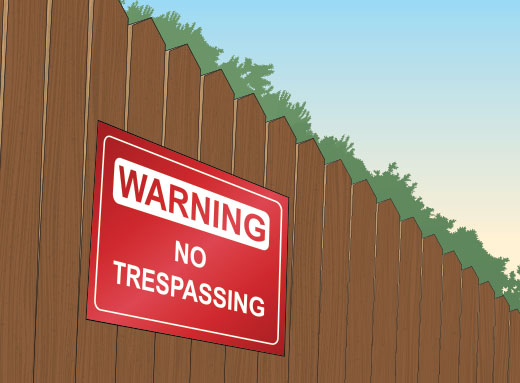 Types of Private Property & No Trespassing Signs
The most common type of no trespassing sign is made from aluminum. This metal option is a great one due to its ability to last several years in both indoor and outdoor environments. It can also be easily displayed or installed in a wide variety of settings. There are, however, several types of sign materials that can be used to create your no trespassing sign. The following include the most common types of private property signs:
While the sign materials listed above are the most common materials used to create no trespassing signs, they are not the only materials that can be used. Your sign can be created from any one of our sign materials, and you can see all of the sign types we offer by checking out our home page.
General Standards & Regulations

Due to the fact that no trespassing signs are placed on private property, they are able to contain any type of warning or message the owner of the sign sees fit. However, if you want to have your sign qualify as a means for prosecuting those that have trespassed on your property it will need to abide by certain standards & regulations. These regulations are set at the state level, meaning they differ from state to state. If you are wanting to create a sign that will comply with your state's regulations, be sure to check out our State-by-State Guide to No Trespassing Laws & Signs. This will help you know what you need to do to create an official no trespassing sign for your area. While regulations differ at the state level, there are some common sign elements required by most states. Here are some of the general regulations you can keep in mind:
Sign Message – The most common requirement for an official no trespassing sign is for it to contain the words "NO TRESPASSING" or "PRIVATE PROPERTY". Some states also require you to include both the name and address of the owner of the property. Another common regulation is to have the letters on your sign be at least 2" high, allowing others to easily see and read your message. You will also want to include specific prohibitions for your property, such as no hunting or no fishing. Message requirements, however, will differ state to state.
Sign Size – Most states do not require any specific size that your sign needs to be. However, we recommend making your sign large enough to be easily seen and understood. It should also be large enough to contain lettering that is at least 2" in height. For states that do require a certain size, it is usually at least 144 square inches (which translates to 12" wide by 12" tall).
Sign Location – Generally speaking, it is expected to have your sign placed at the entrance to your land or property in a location that is clearly visible to potential intruders. We recommend placing a sign at each entrance to your property if you have multiple entrances. Some states also require a sign to be placed every certain amount of feet (such as 500') along the edge of your property or land. Overall, be sure to post enough signs to give potential intruders a fair chance to see them regardless of where they are attempting to enter your private property.
Additional Tactics to Keeping Intruders Off Your Property
Posting no trespassing signage along your land or property is one of the most effective ways to keep intruders away. But it doesn't stop there. If you are concerned with people entering your property or you have been having an issue with it, there are several other tactics you can employ to make sure people stay away for good. Here are some of those tactics, just to name a few:
Install Security Cameras – Installing cameras and a security alarm system around your property is an effective way of deterring potential intruders. Not only does it alert you when someone is actually trespassing, but it also gives you the opportunity to place warning signage around your private property stating that you have security cameras and alarms in place. If you are interested in prosecuting those that have trespassed, having those cameras will also make it much easier to actually catch the perpetrator.
Install Fencing Around Your Property – Many times, people will trespass in your property simply by mistake. They may not have been aware that the property was off-limits due to a lack of fencing or signage. Installing fencing around your property will help prevent this from happening. The fencing will also serve as a good location on which to place your no trespassing
Consider Getting a Guard Dog – For some, no fear is greater than that of a vicious guard dog. Even if your dog is not that aggressive, your intruders don't know that. Having a guard dog allows you to place warning signs around your property and adds a level of protection for you and loved ones.