Include Any Message At Any Size

Produced Today, Ships Tomorrow
Customizable Pool Signs Made from Aluminum
Choose a template from the categories below and personalize it with any custom text, color, image & more.
Don't see the Pool Sign you need? We offer FREE DESIGN SERVICES!
Swimming Pool Signs Made Right
What are Pool Signs?
Pool signs are used at public and private pools as a way to communicate rules, safety warnings, important notices and more to all occupants of the swimming pool. This provides needed legal protection to the owners of the pool as well as helps communicate everything needed to keep swimmers safe. Pool signs offered at Signs.com are fully customizable, allowing you to include any message, image, logo, color and more on your sign.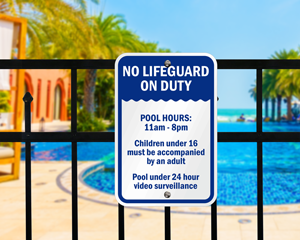 Types of Swimming Pool Signs
The vast majority of pool signs are created from aluminum. Aluminum makes for a great pool sign due to its durability, long life, and installation versatility. However, there are several other types of signs that play an important role in a swimming pool setting. Here are the most popular types of signs used when creating pool signage:
While the sign types featured on this page are the most popular choices, this does not exclude all of the other sign types you can use to create pool signage. Other signs types to consider include acrylic signs, yard signs, and more. Feel free to check out our home page to see all of the sign types we have to offer.
Public vs Residential Pool Signage
When buying pool signs, does it matter whether it is for a public or residential pool? The answer is yes. The biggest reason for this is due to local laws and regulations enacted by state, county, and city governments. To put it simply, the majority of states have certain requirements for signs posted at public pools (pools open for use to the general public). Signs for residential pools (pools that are privately owned), however, generally have little to no requirements. Regardless of whether you are buying signs for a public or private pool, we recommend jumping over to our State-By-State Guide to Pool Signage and Fencing Requirements to see what signs you may be required to post as well as how they should be made. We have created our templates to follow as many general mandates as possible, but it is still advised to confirm with local authorities, where applicable, the exact requirements needed for your signage.
Even if there are little to no local requirements for pool signs in your area, it is still a good idea to include several different signs at your pool. Why? Because it will still help provide safety to swimmers as well as protect you from a potential lawsuit should any type of accident occur.
Please Note: We're not legal experts and this information is not professional legal advice. While we've identified the laws that we know of, both homeowners and public pool administrators should ensure that signage used around pools meet any current and applicable local, state, and federal requirements. We will not be held liable for any signage or fencing that fails to meet legal requirements. Moreover, while we frequently reference federal, state, county, and city laws, we make no guarantees about the recency or validity of these codes. Pool owners are responsible for finding and following the statutes that govern their pools.
Tips for Creating Effective Pool Signage
When creating a pool sign, make sure that it can be easily seen, read, and understood by all occupants of your pool. It is no stretch to say these signs can literally save someone's life, but only if created properly. Here are some things to keep in mind to help you create the most effective pool signage possible:
Follow All Local Regulations – First and foremost, make sure you are familiar with your local government's rules and regulations pertaining to pool signage before beginning to create your own. Many states and counties dictate which signs are needed, the exact wording that is to be used on the sign, what size the letters need to be, which colors to use, and how large the sign should be. Following these regulations will help you not only create effective signage but will also keep your local officials happy and off your back.
Use Contrasting Colors – Our pool signs are fully customizable, and with that comes the ability to use any number of colors on your sign. While changing the colors of your sign is fine, we recommend sticking with contrasting colors to help keep your sign as legible as possible. Generally speaking, most pool signs incorporate black lettering on a white background. You can also use white lettering on a dark background such as black, blue, or red. Whatever you do, make sure you avoid colors like white letters on a yellow background! It simply does not work. Just remember; if it's hard for you to read, it's going to be even harder for swimmers to read.
Use Large, Legible Letters – There are many rules and regulations around what size the letters need to be on your sign, so we recommend starting there. Whichever size you end up going with, make sure your message can easily be read, even at a reasonable distance. Generally speaking, you will want your lettering to be 1 inch tall for every 10 feet of desired viewing distance. For example, if you want your swimming pool users to be able to read your sign from 40 feet away you will need to make the letters on your sign at least 4 inches tall.
Make It Big Enough to Be Seen – Along with using large letters, you will need to make the sign itself large enough to be seen. One of the most common sizes used for pool signs is 18" x 24" (1.5 feet wide and 2 feet tall). This size generally works for most pool signs and allows you to display your message in a clear and easy-to-read way. Depending on your message and how prominent you want it to be, you may need to make your sign larger or smaller than this. Keep this general rule in mind; the more important the message, the bigger the sign should be.
Pick the Right Location – Now that you've created the perfect sign, you need to decide where you are going to place it. As with other areas of creating your sign, the location of your sign may be subject to local regulations. Common areas to place pool signs include entrances to the pool area, entrances and exits to locker rooms, near pool attractions (diving boards, water slides, etc.), and various locations around the perimeter of the pool. In addition to common areas, try to place signs where they are most relevant. For example, a sign for NO DIVING should be placed near the area of the pool where diving is likely to occur but is prohibited.
Signs to Include at Your Swimming Pool
With so many different types of signs available, it may be hard to know which signs you should and should not include at your pool. First and foremost, start with checking your local laws and regulations. Many times they specifically outline the signs you must include. Even if your state, county, or city does not require you to post very many or any signs at all, it is still a good idea to include some of the most common types of pool signage. Safety first, right? Here are some of the most common signs you should consider including at pool, whether it be for public or private use.
Pool Rules – Pool rules are one of the most common signs used at pools. They allow you to post all of the rules required by you and your local government to ensure the safety of swimmers and the preservation of your pool. These signs are generally 18" x 24" and contain letters anywhere from ½" tall to 4" tall. Pool rules signs are commonly placed at each entrance to the pool as well as other various locations around the perimeter of the pool.
Safety – Safety signs are a must for any pool and help prevent life-threatening injuries and even death. These signs can include a wide variety of warnings and notices, such as "No Smoking", "No Swimming", "Children Must be Supervised", "No Glass Allowed in Pool Area" and more. Sign and lettering size varies for these, but they should be made to be easily legible at varying distances. Safety signs should be placed at the entrance to the pool as well as any area where any unsafe behavior is likely to be occur.
No Diving – Want to avoid cracked heads? Yeah, so do we. No diving signs will help deter people from diving in places they shouldn't, saving them from injury and you from a headache. Remember to check your local regulations, but we recommend making the letters on this sign at least 4" tall. Be sure to place these signs near any area of the pool where diving is prohibited, including shallow areas, wading pools, and hot tubs.
No Lifeguard – This sign is a must if you do not have any lifeguards or attendants watching over the users of your pool. It lets swimmers know that there is no professional help immediately available and encourages them to be cautious while swimming. Most no lifeguard signs contain text along the lines of "WARNING – NO LIFEGUARD ON DUTY" in at least 4" letters and may also contain additional text such as "Children under the age of 14 shall not use pool without a parent or adult guardian in attendance." in letters at least 1-2" tall. As with all other signs, check your local regulations to make sure you create code compliant no lifeguard signs. These signs should be placed at all entrances to your pool as well as several visible locations around the pool's perimeter.
Emergency Information – Nobody wants to have accidents or injuries occur at their pool, but it can and does happen. Make sure you are prepared for such moments by providing signage that contains information specifically for emergencies. This includes directions to the emergency phone, how to operate the emergency phone, directions to first aid supplies, all the phone numbers of local emergency respondents (fire department, police department, poison center, etc.) and more. These signs will vary in size and letter height depending on which type you are creating, and should be placed in highly visible areas that are easy to find in the event of an emergency.
Pool Hours – Keep swimmers out of your pool and let them know when to come back with pool hours signs. If you want to enforce your pool hours even further, consider adding a video surveillance sign as well. Besides posting the hours of operation, you can also include warning messages such as "No Swimming After Dark" or "Do Not Use Pool When Closed". There are little regulations around the size and lettering height for these signs. We recommend making them at a size that can be easily seen and read and placed at each entrance to your pool.
Maximum Occupancy – Many state and local governments require you to post the maximum bather limit for your swimming pool. With our sign customization, you are able to include any number (specific to your pool) on your sign. Local requirements may vary regarding the letter size on these signs, and we recommend making the letters at least 2-4" tall so they can be easily read. These signs should be placed at all entrances to your pool and can also be used to disclose hot tub and spa occupancy limits.
Humorous – Tired of all the serious signs? We don't blame you. Add some personality to your pool with signs meant to encourage certain behaviors while (hopefully) producing half a smile (they're funny, but not that funny… like a dad joke). Most humorous signs revolve around no peeing in the pool or showering before entering. You have full control over the size, message, and design on these signs, so make it fun!
Other – We have mentioned the main types of signs that should be included at your pool, but there are still more. This includes private use notices, no trespassing warnings, surveillance notices, and pool directions. In need of a sign we still haven't mentioned? Create it yourself using our powerful online design tool.