About Our X-Stand Banners
Description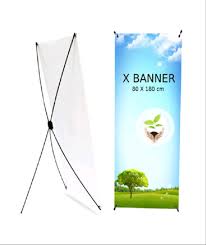 The X-Stand banner is the best lightweight and portable solution for your on-the-go display needs. Your design will be printed on 13 oz. vinyl which will allow your display a long lasting and clear image for years to come. The unique feature of this display option is the stand itself, which is made from a fiberglass reinforced aluminum, giving lightweight durability that lends to the portability of this banner. This easy to set up design allows for quick and simple placement at trade shows, conferences, presentations, business meetings and so much more. Once you're finished using your custom X-Stand banner, it folds up just as fast as it took to set it up. Placing the folded stand and banner in its travel bag will allow you to take this versatile banner anywhere you might need it.
X-Stand Banners Highlights
Weight: 3.9 lbs (This includes the weight of the larger stand and banner. See the FAQ section for the weight of the smaller banner.)
Thicknesses: .0156″ (about the thickness of 4 sheets of copy paper)
Details: Durable fiberglass reinforced aluminum stand, 13 oz. vinyl banner, travel bag (included).
Uses: Recommended indoor use for tradeshows, conferences, conventions, business meetings, product displays, presentations. The X-Stand banner is not recommended for outdoor use.
Print Method: Full color UV digitally printed.
Estimated Lifespan: 3+ years with proper setup and care.
Custom Sizes:24" W x 63" H, 32" W x 71" H
Installation & Care
Installation: Setting up the X-Stand banner is effortless and swift. The stand folds out like an A-Frame sign or an easel, so there is no need for tools. The only assembly required is placing the two poles, or 'arms', into either side of the X-Stand at the top of the center support. With the arms attached, face the hooks forward. This is where you will attach the banner to the stand. Hook the banner to the arms, starting from the top, then attach the bottom grommets to the bottom hooks. The bottom hooks are adjustable and can be tightened to ensure that the banner is pulled taught.
Care: Caring for your X-Stand banner does not require any extensive cleaning or maintenance if you properly set it up. Make sure to take care when setting up the stand to not lean against or place additional weight on the extendable arms. Placing the banner and stand in the travel bag will assure that your display will be secure and protected from harm. If the vinyl banner or X-Stand accumulate dirt or grime over time, use a mild cleaning solution and a damp cloth to clean the soiled areas.
X-Stand Banners Options
Grommets :"Grommets will be placed into your sign for easy hanging and installation.  Specific placement options are displayed in the design area and in cart"
Hem: "A welded hem will reinforce your edges and give your sign a clean and finished look."