Want us to help with your Custom Pole Banner? Contact us to try our FREE DESIGN
SERVICES!
A Pole banner is a banner that is attached to a lamp, light or other pole and you will find them on main roads, streets and walkways in cities, towns, malls and on school and business campuses. They are regularly seen during seasonal promotional or celebratory events, holidays, parades and many more uses.
Customizable, Waterproof and High Resolution
Choose the exact colors and design you want in our custom design tool or contact us if you want help!
Our Pole Banners are made from 18 oz vinyl, and we use UV safe graphics that result in high resolution long lasting images, are waterproof, and ideal for any season indoors or outdoors.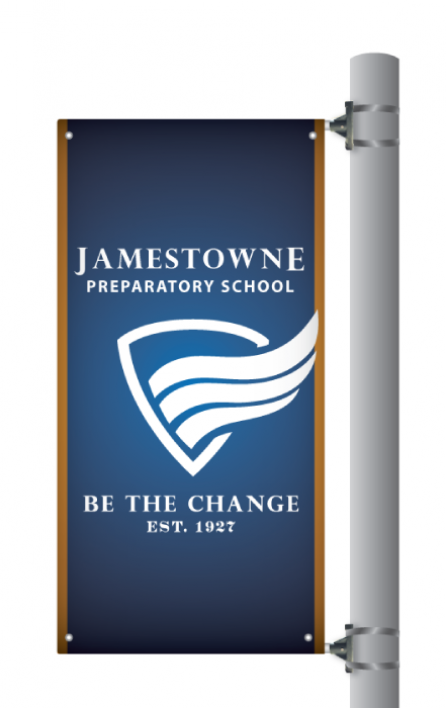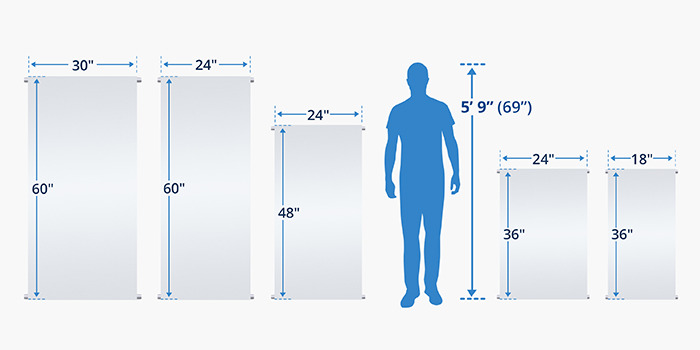 Multiple Sizes Available
Widths of 18″, 24″, and 30″
Heights from 24″ to 96″ (available every 6")
If you need a custom height between 24″ and 96″, please contact our design team.
Hemmed Pole Pockets
The standard hemmed pole pocket size is 2″ where a 1-1/4″ pole is used. We can also create 3" and 4" replacement banners if you already have the hardware.
Grommets
Brass grommets are included on the four corners of your banner with your purchase which can be used to additionally secure your banner with a zip-tie.
Hardware
Two fiberglass poles, two sturdy mounting brackets with accessories (two threaded screws for securing the grommeted banner to the mount with zip ties and two pins with keychains that help secure the pole) and four adjustable steel bands (up to 47") that are rust resistant are included with each 2" pole pocket banner.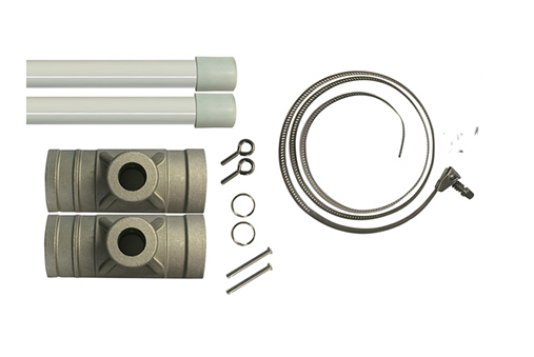 To allow for separate banner purchases the hardware kit is an additional option for banners with 2″ pole pockets. 3″ and 4″ pole pocket banners do not include the option of a hardware kit at this time but can be purchased as stand-alone banners.
The chart below lists the pole diameters accommodated by three different sized pole pockets.
| | | | |
| --- | --- | --- | --- |
| Pole Pocket Size | 2″ | 3″ | 4″ |
| Pole Diameter | up to 1 1⁄4" | 1 1⁄4" to 1 13⁄16" | 1 13⁄16" to 2 7⁄16" |
Installation
First, attach the mount to the desired pole with the steel bands. Then slide the fiberglass arms into the banner and the mounts on the pole. After that, slide the pin with keychain through the holes to ensure the poles do not come off. Finally, hand tighten the threaded screws and secure your banner using zip-ties through the grommets in the two corners closest to the pole mount.
| | |
| --- | --- |
| Weight: | .09 lbs. per square foot (18 oz. vinyl) |
| Thickness: | .0156 inches |
| Uses: | Outdoor, Indoor, Street Poles, Lamp/Light Posts, Cities, Schools, Corporate Campuses,Colleges, Holidays, Parades, Malls, Museums, Festivals, Business advertising, etc. |
| Print Method: | Full Color, Digital |
| Estimated Lifespan: | 3+ years based on weather exposure |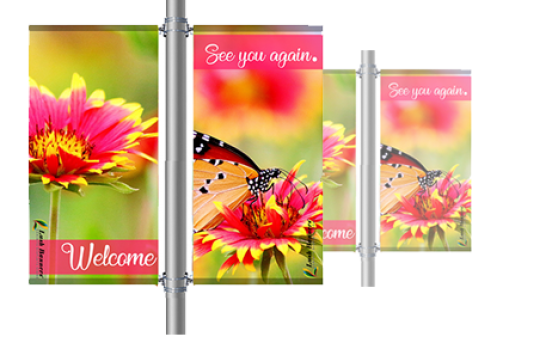 If you want a dual banner look, after customizing your banner simply select a quantity of two. This way you'll have a banner for both sides of your pole
GeminiSigns.com
Your trusted, custom signage provider.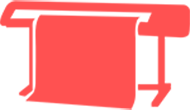 On-Site Manufacturing
Using the latest Technology
and Equipment.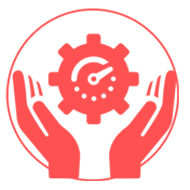 One Day Production
Order Today. Ships
Tomorrow.

40+ Years Experience
Years of experience, expertise
and beautiful prints.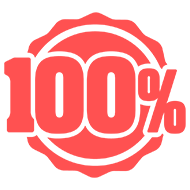 100% Satisfaction
Guarantee
You'll love it! We guarantee it!