What is a Retractable Banner?
Retractable banners display your desired message and are housed in a durable aluminum base which makes them very portable and a perfect signage option for your next conference, tradeshow or special event.
We offer 13 oz. vinyl or 9 oz. polyester fabric with the option of choosing a model with ability to modify the size of the banner with an adjustable pole. A padded carrying case comes with each purchase and LED display lights can be added as an option.
You will be set for years and many events with your GeminiSigns Retractable Banner.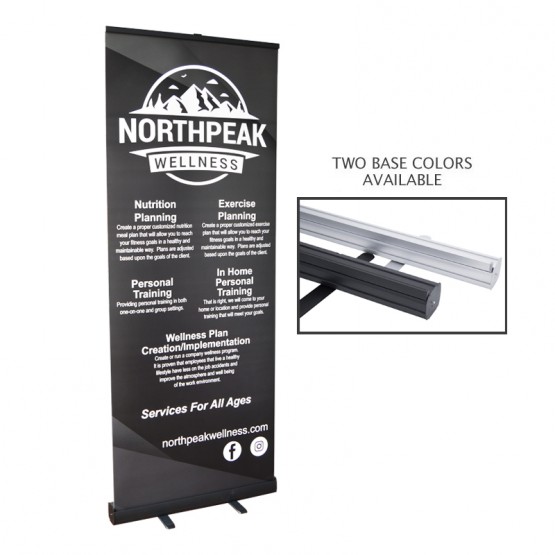 Standard
24″x81″, 33″x81″ / Normal Base with Feet / Image – Single Sided Only / Material – Fabric or Vinyl / Regular Carrying Case / 1 LED Light Option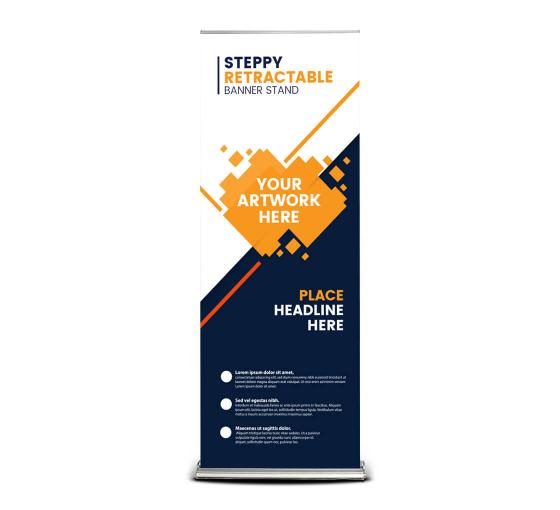 Premium
36″x92, 48″x92, 60″x92 / Professional Chrome Base / Image – Single Sided Only / Material – Fabric or Vinyl / Rigid Carrying Case / 1 (36″x92″) or 2 LED Light Option
Deluxe
33″x81″ / Upgraded Chrome Base / Double Sided – Same or Different Image / Material – Fabric or Vinyl / Regular Carrying Case / 2 LED Light Option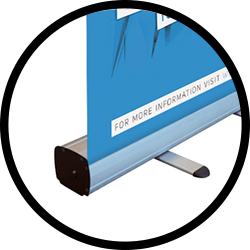 Standard
This model includes feet that help to stabilize the banner and is a great option for limiting your trade show budget.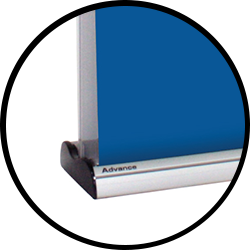 Premium
This model is sturdier with upgraded design and features without needing the supporting feet of the Standard model.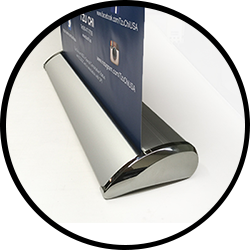 Deluxe
This is the ultimate option for displaying your marketing efforts with a retractable banners. It has similar features of the Premium model except the base is upgraded and there is an option to double-side print
Need your Retractable Banner to be Double Sided?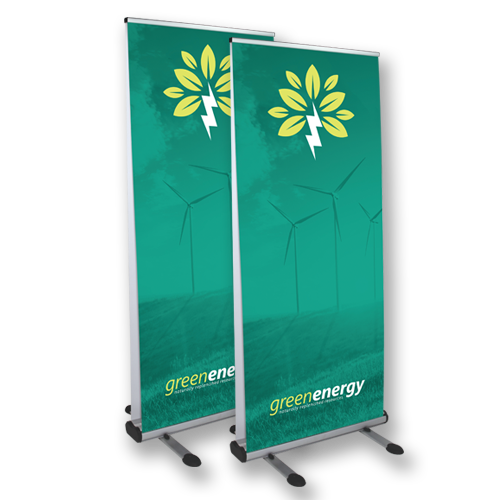 If so, choose the deluxe option and have a product that has bidirectional visibility.
The set up is the same as the single sided option using the pole/hook system described below and these banners can have the same or different designs on either side.
Choose from Vinyl or Fabric Material
All of our retractable banners—standard, premium, and deluxe allow you to choose between two material types, vinyl or fabric.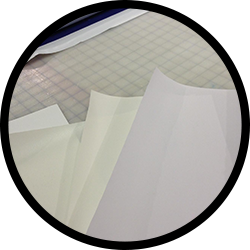 Vinyl
This is 13 oz. vinyl material and once printed the look is glossier than the fabric finish.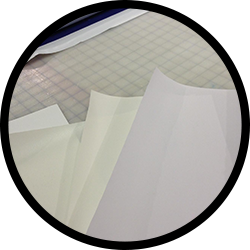 Fabric
This is 9 oz. polyester material and once printed have a matte finish compared to the vinyl.
Accessories
*When you buy a retractable banner a carrying case is included.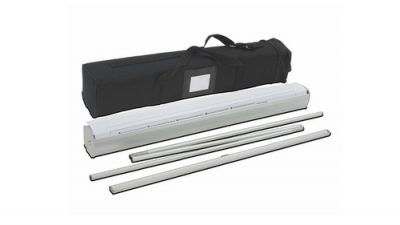 Standard Carrying Case
A padded carrying case comes with your retractable banner purchase. The standard case can only be used with a standard banner so it will not work with the premium or deluxe versions. Additionally, the optional LED light will not fit in this case.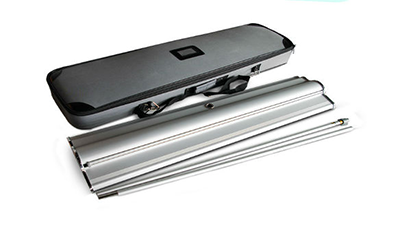 Premium Carrying Case
A sturdier case that offers more protection is offered when you purchase one of the three premium retractable banner choices. Different cases fit with the different sized banners. If you opt to buy LED light(s), they will fit in this case.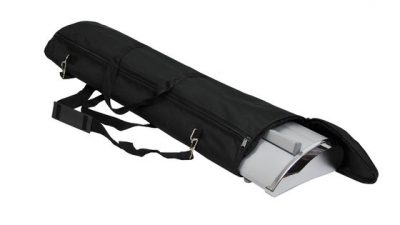 Deluxe Carrying Case
Deluxe carrying cases are designed to carry each individual banner, only fits deluxe banners and are a specific size depending on what size banners you purchase. If you opt to buy LED light(s), they will fit in this case.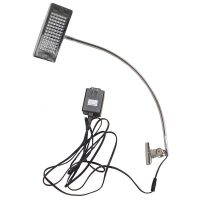 LED Light(s)
You can add these to your order and they connect at the top to provide light. (restrictions: *48"x92" Premium, 60″x92″ Premium, and 33"x81" Deluxe Retractable Banners offer 2 LED Lights only)
Need help with your Custom Retractable Banner? Let us help since we offer FREE DESIGN SERVICES
Fast & Easy Set Up
You can set up the retractable banner in a few minutes. Take everything out of the case, lock the pole in place, pull out the banner from the base and attach it to the pole – that's it! Do the reverse of this process to break down the banner and return the items to their respective cases.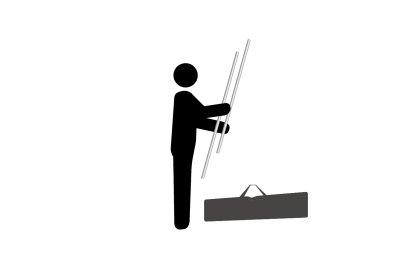 Start by removing the base and the poles.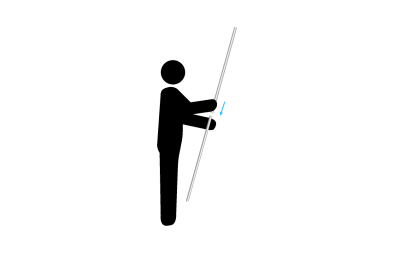 Then, connect the ends of the poles to make one larger pole piece.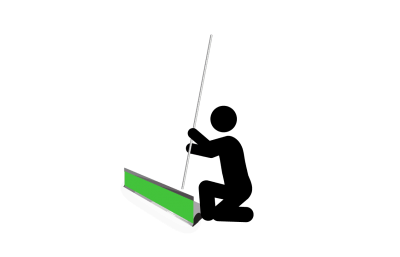 Next, place the pole all the way into the base.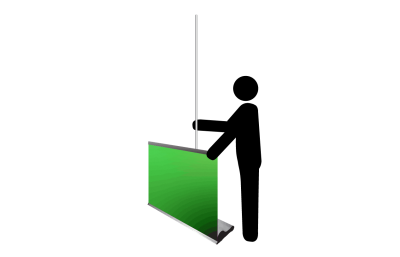 Then, slowly pull out the banner from the base and connect it to the top of the pole.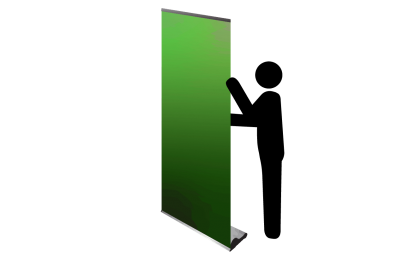 Depending on the height of the banner, adjust the poles appropriately and lock the desired height of the banner by twisting the poles.
At this point if you have the deluxe version you can see mounting clips at the top of the pole. This is where you can attach the top rungs of the banner after slowly pulling the back side of it out of the case.
Care
Retractable banners require little on-going care and maintenance as long as an effective enabling and disabling process occurs. The material is protected when the banner is retracted into the base and the padded case will protect the pole, stand and lights. If stains occur, they can be wiped away or laundered depending on the severity of the stain
If taking out to display or breaking down to store the retractable banner, do so carefully. Center the graphic to the base when pulling out the banner and hold on to it firmly so that it doesn't rapidly retract into the base because this could cause damage to the banner and unit. Take the same care when installing the pole to the top and the base of the graphic as if this is damaged it could deem the banner unusable.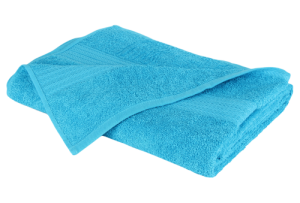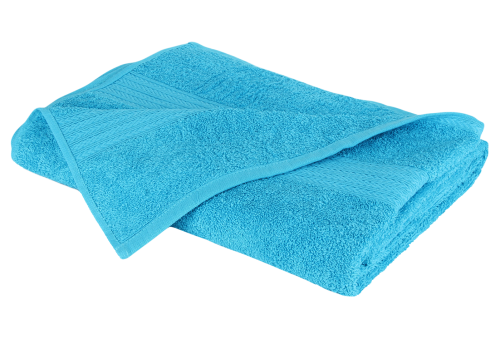 | | |
| --- | --- |
| Standard Weight: | 6.8 lbs. (based on 33"x81" banner including carrying case) |
| Premium Weight: | 16 lbs. (based on 36"x92" banner including carrying case) |
| Deluxe Weight: | 11.25 lbs. (based on a 33"x81" banner including carrying case). |
| Thickness: | 9 oz. Polyester Fabric or 13 oz. Vinyl Banner |
| Details: | Fabric & vinyl material options; Multiple aluminum base and component options, optional LED display light(s), carrying case (included), |
| Uses: | Events, Conferences, Trade Shows, Display Booths, PoP Displays |
| Print Method: | UV for vinyl and dye-sublimation for fabric; Full-color printing |
| Estimated Lifespan: | 5+ years with appropriate care |
| Standard Sizes: | 24"x81", 33"x81" |
| Premium Sizes: | 36"x92", 48"x92", 60"x92" |
| Deluxe Size: | 33"x81" |
GeminiSigns.com
Your trusted, custom signage provider.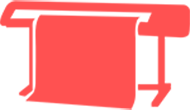 On-Site Manufacturing
Using the latest Technology
and Equipment.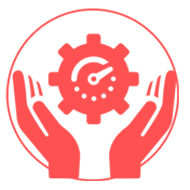 One Day Production
Order Today. Ships
Tomorrow.

40+ Years Experience
Years of experience, expertise
and beautiful prints.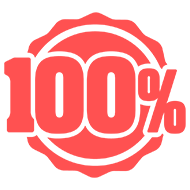 100% Satisfaction Guarantee
You'll love it! We guarantee it!